Voices of UFCW Local 555 from Oregon and SW Washington.
Steve Frichtl, a Produce Clerk since 1979 at Longview Fred Meyer, won $250 gift cards in the UFCW Region 7 Drawing. "By joining the UFCW Active Ballot Club, I am helping get laws passed that benefit all working people and their families. I want to help make a difference!"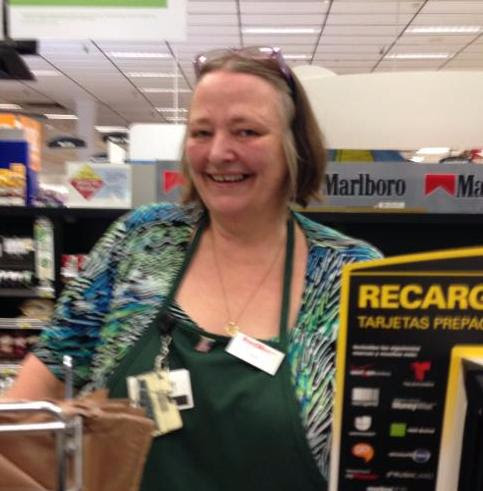 Debbie Mott, who works at East Salem Fred Meyer, loves being a Union member because of all the benefits.  She is very excited about 1st day sick leave going into effect on January 1st.
Ngu Luu has been a member since 1995. She most recently, and for most of her career, has worked at the Albertson Store located in the Milwaukie Marketplace store. She became a Haggen employee when her store was one of the stores that the Federal Trade Commission ordered divested as a condition of approval of the merger of Albertson and Safeway. Ngu is a journeyman Produce Clerk and she really enjoys her work. She is very happy to be a member of UFCW Local 555. She applied at the non-union Webster Road Safeway Store and she was hired. She was informed by her union rep that she did not have to go to work in a non-union store. It was suggested that she apply at the Sunnyside Safeway store. She did and she was hired. Ngu is very happy to keep her Seniority and to keep the Union's Pension plan.
Ashley Wallet is a seven year employee at Albertson's Store 518 in Wilsonville, Oregon. She is a bakery worker and proud member of UFCW Local 555. A quick smile, a beaming personality, and a never ending desire to please her customers; Ashley is a model retail employee. Having begun her grocery career directly out of high school, Ashley already knows the value of building a retirement nest egg through her union pension plan. According to Ashley, "It feels really good to know that as a "20-Something", my pension is already vested, it's growing every year, I'm not having to save for it out my pocket and it will all be waiting for me when I retire". How many young people Ashley's age do you know with that kind of financial savvy? Way to go!
"The UFCW Facebook page and website are great. Easy to navigate and full of useful information."
Drew Huebner, UFCW 555 Member
"Thanks to the seniority scheduling language in my union contract, I am now being scheduled more hours. I am thankful for my Union and that I have a contract that gives me rights in my workplace!"
Brenda Favor, UFCW 555 Member
Congratulations to Kenny Rainsberger who recently got married!  Kenny works at the Albertsons in Aloha. He loves the union insurance plan, and will able to cover the new additions to his family under it for far less than it would cost on the open market.
Congratulations again, Kenny!
"Back in April, I broke my leg.  I was unable to work, but the Union had my back through the whole process of recovery.  Thank you!"
Christain Sanders, UFCW 555 Member